Discover more from Lake Drive Books Substack
Cool book updates, and posts for your personal journey of discovery.
A Personal Invitation from Frank Rogers Jr. to Be on the Launch Team for Cradled in the Arms of Compassion
You'll love Frank Rogers's new book on a spiritual approach to trauma and recovery.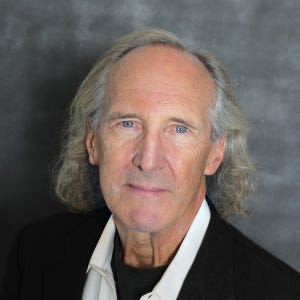 Friends of Lake Drive Books,
I am immensely excited to announce that my new book is coming out after several years of writing. Entitled, Cradled in the Arms of Compassion: A Spiritual Journey from Trauma to Recovery, it tells the story of my search for psycho-spiritual resources in healing from the horrors of childhood sexual abuse. Clearly my most intimate book yet, it also recounts the origins of the Compassion Practice, the synthesis of my restorative journey.
This book is deeply personal for me. I wrote it for my sister Linda after she passed away a few years ago. Both of us traumatized by the same family, she found herself so beset by nightmares and self-destructive impulses that she was committed to an asylum—much as I had been thirty years earlier. When she asked for me in the hospital, she begged me to tell her how I got better from the trauma we both shared. I said what I could under the circumstances. A few weeks later, she took her own life.
This book is the answer that I wish that I could have offered to her.
I have written it with the hope that other survivors of sexual abuse—and those that companion them—will find that they are not alone. And that there are psycho-spiritual resources that promise healing and restoration—resources that can sustain anyone who knows suffering and trauma, resources rooted in a sacred source of infinite compassion. I feel it with the force of a personal mission—to share what I have discovered with anyone who longs for life in the midst of abuse.
The official release date of the hardcover and e-book is October 17, 2023. An audio version of the book, read by me, will be available later in October. If you know of anyone who would find this book meaningful, please share with them its availability.
And if you feel so motivated, I would be honored if you would consider joining my personal book launch team. The way that a launch team works is this:
You join the launch team by filling out the simple form at the following link:  
https://bit.ly/3PiyD2M
I will send you a free digital advance copy of the book as a PDF.

You would read the manuscript and write a short review (1-3 sentences) to post on Amazon, Goodreads, Barnes and Noble or elsewhere.

You would preorder the book that is now listed on

And post your review as soon as you are able.
Finally, if you use social media yourself, it would be enormously helpful if you mentioned the book and recommended it to your contacts. If you do not use social media, then simply mentioning the book to a friend or a community of which you are a part would be a great gift.
Those who are on my launch team will have my profound and sincere gratitude for joining me in the mission of sharing compassion-based resources for healing severe suffering in our wounded world.
In addition, Alane and I will be hosting a party exclusively for the launch team on the day of the book's release. The party will be both virtual and in person for those who live near Claremont, CA. We will have some special guests at the party including the online presence of Dr. Richard Schwartz, the founder of IFS, who said about the manuscript,
"This is an amazing book that I couldn't put down once I started it. In Frank's brutally honest and remarkably disclosive telling of his story you will find a hope-filled model of healing and transformation."
In addition, I will be hosting for the launch team an exclusive book discussion in December to discuss the creation of the book, expound on various portions of the narrative, and experience the Compassion Practice at the heart of the healing journey.
Please consider joining my team as we promote this book. And if nothing else, know that I am extraordinarily grateful for your own commitments to compassion in nurturing healing for all manner of brokenness in our world. May the sacred source of infinite compassion sustain us all.
With gratitude,
Frank
---
Thanks so much for your support of Lake Drive Books. Would you consider sending this note to a friend? If you're receiving this newsletter from a friend, be sure to sign up below and you'll receive an opportunity to download free one of our insightful audiobooks. Our newsletter is meant to inspire and inform, and along the way we'll make exclusive offers on our books to our newsletter subscribers.